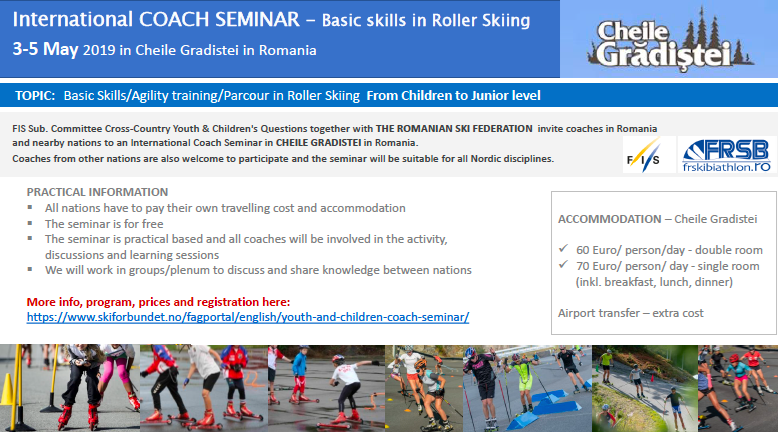 International Coach Seminar in Romania - Basic Skills on Roller Skis
3-5 May 2019 in Cheile Gradistei in Romania
TOPIC:
Basic Skills/Agility training/Parcour - Fun Activities on Roller skis
From Children to Junior level
__________________________________________________
FIS Sub. Committee Cross-Country Youth & Children's Questions together with THE ROMANIAN SKI FEDERATION invite coaches in Romania and nearby nations to an International Coach Seminar in CHEILE GRADISTEI in Romania.
Coaches from other nations are also welcome to participate and the seminar will be suitable for all Nordic disciplines.
_______________________________________________________
PRACTICAL INFORMATION
All nations have to pay their own traveling cost and accommodation
The seminar is for free
All participants have to bring their own roller ski equipment
The seminar is of course also for those who don't want to practice on roller skis
The Seminar will take place from

FRIDAY 3 May lunchtime - to SUNDAY 5 May lunchtime
A more detailed program will follow

The seminar will be practically based and all coaches will be involved in the activity, discussions and learning sessions
We will work in groups/plenum to discuss and share knowledge between nations
We will use the seminar to collect 'best practice' and good ideas and make video tips we can share between nations and coaches after the seminar
The seminar will be in English
Coaches from different nations (Norway, Germany, etc.) will be responsible for the seminar

So far: Georg Zipfel from Germany and Brit Baldishol, Brynhild Sætha and Helen Ingebretsen from The Norwegian Ski Federation, will be present and responsible.
PROGRAM
Friday May 3rd
12:00 Arrival and check in at the hotel
13:00 Registration
13:30 Welcome/presentation/Info - Meeting Room at the hotel
14:30 – 17.30 Practical session on roller skis
17:30 – 18:00 Discussions/summarizing
19:00 Dinner
Saturday May 4th
08:00 Breakfast
09:00 – 12:00 Practical session on roller skis (also with children)
12:00 – 13:00 Lunch
13:00 – 17:30 Practical session and some theoretical discussions/lessons
17:30 – 18:00 Discussions/summarizing
19:00 Dinner

Sunday May 5th
08:00 Breakfast
09:00 – 11:00 Practical session on roller skis
11:00 - 12:00 Discussions/summarizing
Departure
_________________________________________________________________________
Brit Baldishol from The Norwegian Ski Federation and Georg Zipfel from Germany will be in charge of the program, but you will all be involved in the learning process. The course will be built upon the step by step Development Plan made by the Norwegian Ski Federations for learning Cross Country. We will have a mix of practical lessons, discussions, theoretical lessons and some balance training inside the gym.During the Course we will cover subjects from beginner level up to junior level.
EQUIPMENT
You need to bring your roller skis, poles, helmet and gloves.
TRANSPORT FROM THE AIRPORT
We contact those of you who want transport from the Airport directly
CONTACT INFO
Brynhild Sætha: +47 414 18 977 Brit Baldishol: +47 951 78 884 Helen Ingebretsen: + 47 976 71 221
Whats App – We have a closed group, you may also contact us there.
ACCOMMODATION – Cheile Gradistei
60 Euro/ person/day - double room
70 Euro/ person/ day - single room
(incl. breakfast, lunch, dinner)
We will have access to Conference Room, Gym, Sports Fields, Swimming Pool, Sauna and Jacuzzi.
The seminar will be held in the nice Roller ski Arena outside.
Airport transfer – extra cost
We organize transport by bus/minibus with luggage trailer from the Airport to Cheile Gradistei
Bus from the Airport to Cheile Gradistei take approx. 4 hours.
More info about the extra cost will come when we see from the Registration Form how many who needs transport.
REGISTRATION FORM
Registration deadline: It's still open.
NB! New registration deadline
If you want to join but need more time to register, please send us an email and let us know.

QUESTIONS
If you have further questions about the Seminar, feel free to contact us at post@skiforbundet.no
This is the Norwegian Ski Federation's email. We will administer the Seminar together with colleagues from other nations.
DIRECT CONTACT - Cheile Gradistei:
In case you need more information about Cheile Gradistei, please contact them directly at:
Complexul Turistic Cheile Gradistei Brasov
Carmen Corneanu
Tel. 0040.743.056.050
cheilegradistei@gmail.com
ww.cheilegradistei.ro
tel: 0723.315.582 - Receptie Moeciu
tel. 0724.372.257 - Reception Fundata
fax: 0368. 710.640
This is cooperation between different nations/working group in the FIS Sub Committee Youth and Children Cross Country.
Hope to see you in Romania!
To be inspired and learn more about basic skills training in roller skis, you can visit our closed facebook group FIS Youth and Children Activities
Here you'll find different videos from different nations. If not member, please ask to become one.
Or have a look at this youtuve video
Cross Country Ski Agility Test Skills - Girls